This is an archived article and the information in the article may be outdated. Please look at the time stamp on the story to see when it was last updated.
EL CAJON, Calif. — An El Cajon tattoo shop employee was attacked and pistol-whipped by two men who robbed the business early Monday, police said.
The armed robbery at Classic Tattoo at 1024 Broadway occurred around 2 a.m., according to El Cajon police Lt. Steve Shakowski.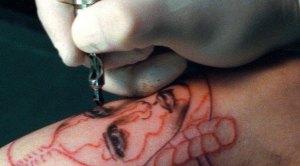 The victim had fallen asleep inside the unlocked business when he was awakened by two men trying to roll away his motorcycle, which was parked inside the tattoo shop, the lieutenant said in a statement.
As the victim confronted the men, he was attacked and pistol-whipped and the robbers eventually got away with cash and property from the business, Shakowski said. It was not immediately clear whether they got the motorcycle.
The victim suffered moderate injuries in the attack but refused medical attention at the scene, according to the lieutenant.