This is an archived article and the information in the article may be outdated. Please look at the time stamp on the story to see when it was last updated.
SAN DIEGO — A man with at least one prior DUI conviction was behind bars Wednesday on suspicion of murder, vehicular manslaughter, drunken driving and hit-and-run in the aftermath of a fiery freeway pileup in Scripps Ranch that killed two people and injured two others, including a police officer.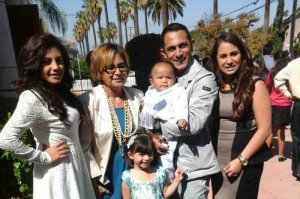 Jeffrey Brian Levi, 37, allegedly was traveling at speeds in excess of 100 mph and swerving between vehicles on northbound Interstate 15 when his red 2015 Ford Mustang rear-ended a Toyota Corolla about 11:45 p.m. Tuesday, according to the California Highway Patrol.
The collision near Miramar Road sent the Corolla spinning across the roadway before it skidded to a halt in the path of oncoming traffic, while the Mustang crashed off the side of the freeway and into a ravine. According to witnesses, Levi then got out of his crumpled car and walked away.
A gray Ford Explorer driven by an off-duty San Diego police sergeant, meanwhile, struck the Corolla, which burst into flames. The city-owned SUV overturned, coming to rest upside down.
Bystanders were able to rescue a woman inside the Corolla, but the other two occupants — her brother and boyfriend — were trapped and died in the burning wreckage. A GoFundMe page identified the three as David Dominguez, 33, and Isaac Felix and Giovanna Dominguez, both 18.
Medics took the young woman to UCSD Medical Center in Hillcrest for treatment of severe injuries and the police officer, whose name was not released, to Sharp Memorial Hospital with minor to moderately serious injuries, CHP public affairs Officer Jake Sanchez said.
Officers searching by ground and aboard a patrol helicopter tracked down Levi in a nearby residential area a short time later and took him into custody. He was booked into San Diego Central Jail, where he was being held without bail pending arraignment, scheduled for Friday afternoon.
The wreck forced the closure of the northbound lanes of the freeway for more than eight hours, leading to rush-hour gridlock. Traffic was still snarled as far south as Clairemont Mesa Boulevard at 9 a.m.
Levi has one or more DUIs on his record, which prompted the CHP to seek murder charges in the case, according to Sanchez. Sanchez said he was unsure how many times Levi had been convicted of the crime.
At the time of the crash, Felix, his girlfriend and her brother were on their way home to Riverside from Tijuana International Airport, where they had dropped off a family member, according a statement posted on the internet donation page.
The woman was hospitalized "with severe burns throughout her body," but her vital signs were stable, the message states.
According to the GoFundMe page, David and Giovanna Dominguez's mother died recently, and another sibling of theirs lost a family member when her husband's 32-year-old sister died on New Year's Eve from injuries suffered due to an epilepsy episode.