This is an archived article and the information in the article may be outdated. Please look at the time stamp on the story to see when it was last updated.
SAN DIEGO — A south swell is expected to bring strong rip currents and larger than average waves to San Diego County's beaches starting late Thursday night, forecasters said.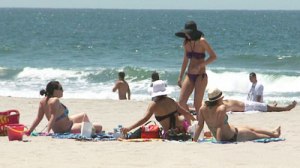 A National Weather Service beach hazards statement will go into effect tonight and extend through Monday evening.
The surf is expected to be around 3 to 4 feet on Friday and early Saturday. It's then expected to rise to 4 to 6 feet with sets to 7 feet Saturday evening through early Monday, meteorologists said.
Forecasters said the strongest rip currents and the highest surf would be along the south-facing beaches north of Solana Beach.
The surf and currents will increase the risk of dangerous swimming conditions — especially for those with little swimming experience, according to the weather service. Rip currents are typically stronger and more frequent near jetties, inlets and piers.
Forecasters said slightly lower south swells and the continued threat of strong rip currents would continue into early next week.