This is an archived article and the information in the article may be outdated. Please look at the time stamp on the story to see when it was last updated.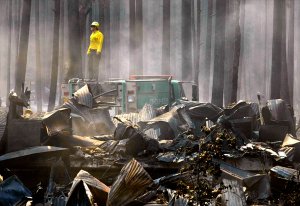 GROVELAND, Calif. — The Rim fire that scorched a huge swath of Sierra Nevada forests also severely altered the habitat that is home to several of California's rarest animals: the great gray owl, the Sierra Nevada red fox and the Pacific fisher.
The fire burned 257,000 acres of High Sierra wilderness straddling the Stanislaus National Forest and Yosemite National Park that harbors a geographically isolated and genetically distinct clan of roughly 200 great gray owls.
The blaze also came within 12 miles of 10 breeding pairs of the subspecies of red fox clinging to survival in the cold, steep slopes above the tree line, raising fears they could have been eaten by coyotes trying to escape the smoke and flames.
The existence of the foxes, which were thought to have been wiped out in the 1920s, was confirmed in 2010. They are currently under consideration for listing under the federal Endangered Species Act.
Federal wildlife biologists are also concerned about the loss of potential habitat for the Pacific fisher, a member of the weasel family. Pacific fishers, members of an isolated Southern Sierra group of about 500 individuals that live in dense old-growth forests south of Yosemite's Merced River, are under consideration for federal listing.
"In the Rim fire, only birds that could fly the farthest and animals that could run the fastest survived," said John Buckley, executive director of the nonprofit Central Sierra Environmental Resource Center. "It killed squirrels and bears. For animals of which only a handful exist, it could be especially tragic."
The exact toll on wildlife will not be known until biologists are allowed to survey severely burned areas, which, for safety reasons, could remain closed for more than a year, federal forest officials said.