This is an archived article and the information in the article may be outdated. Please look at the time stamp on the story to see when it was last updated.
The Rim fire became the fifth-largest in California history Thursday as it grew to 199,237 acres — 311 square miles — as a result of both natural spread and backfire operations by firefighters.
The blaze expanded by 6,500 acres over the day to eclipse the 2007 Witch fire that burned 197,990 acres in San Diego County, the California Department of Forestry and Fire Protection said.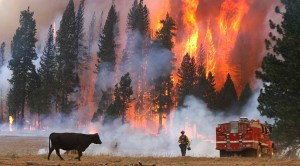 Authorities attributed at least some of the massive fire's  growth to backfire operations by crews on the ground.
The dangerous tactic involves setting fires to vegetation inside containment line to slow or stop advancing flames.
Crews battling the fire on Thursday focused their efforts on lighting the fires south of Hetch Hetchy Reservoir to prevent the blaze from spreading farther southeast into Yosemite National Park.
"The fire is not having erratic growth like it was before," said Alison Hesterly, a Rim fire information officer. "And the forward spread of the fire is slowing, which is a good thing."
In backfire operations, crews uses drip torches to light low-intensity fires beyond the fire's perimeter. By eating up fuels in the fire's path, they create a barrier to its expansion.
Officials said crews would work overnight to continue burning operations as long as weather conditions allow.
Other firefighters spent the day building and improving containment lines with bulldozers and hand crews. One strike team of fire lookouts stood watch over Yosemite's Hetch Hetchy, watching for flare-ups near San Francisco's water supply. Others worked to protect vulnerable structures.
More than 4,900 firefighters were battling the blaze. The cost to fight it has ballooned to $47 million. The cause remains under investigation.