This is an archived article and the information in the article may be outdated. Please look at the time stamp on the story to see when it was last updated.
SAN DIEGO – The California Public Utilities Commission unanimously approved Thursday new regulations for ride-sharing companies, like Uber and Lyft.
Using a cell phone application, the companies connect customers with drivers using their own personal, non-commerical vehicles.
This is the first time the growing ride-share industry is being recognized and regulated in California. The CPUC created the category of "Transportation Network Company" to apply to ride-sharing companies.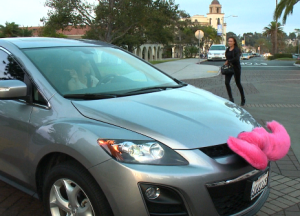 Commissioners established 28 rules and regulations for TNCs. The rules include obtaining an operating license from the CPUC, implementing zero-tolerance drug and alcohol policies, conducting criminal background checks on drivers and requiring 19-point car inspections.
Read the complete list of CPUC regulations
"The CPUC is at the forefront of leadership in crafting new safety based regulations for a rapidly emerging industry," said CPUC President Michael R. Peevey, the lead Commissioner for this proceeding. "The rules we created today allow Transportation Network Companies to compete with more traditional forms of transportation and for both drivers and consumers to have greater choice within the transportation industry."
Aidin Esparza, a driver with Lyft San Diego, said the regulations will give customers more confidence in the industry.
"People are always concerned about safety," said Esparza. "That's key. It's number one."
The approval of ride-sharing companies means more competition for taxicab companies. Diego taxi driver David Johnson said he's in support of the regulation, which will, at least, ensure his competitors are legitimate.
"We basically also have the same regulations," said Johnson. "I think it's a good thing, because you don't want to get in a vehicle with a stranger that may be doing those type of things."