This is an archived article and the information in the article may be outdated. Please look at the time stamp on the story to see when it was last updated.
ESCONDIDO, Calif. – A one-time high school and college star basketball player was behind bars Wednesday on suspicion of sexually assaulting three young women while working as a driver for Lyft and Uber in northern San Diego County.
Jeremy George Vague, 37, was booked into county jail in Vista last weekend on suspicion of kidnapping with intent to commit robbery or rape, forcible sexual penetration and assault with intent to commit a felony, according to Escondido police.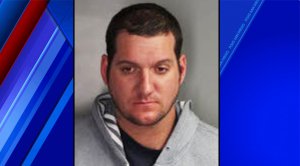 Vague was being held without bail pending arraignment, scheduled for Wednesday afternoon.
The San Marcos resident — who is 7 feet tall and weighs 270 pounds, according to jail records — is accused of committing the crimes over the last two weeks, Lt. Justin Murphy said.
On Sept. 7, Vague allegedly assaulted a customer along with a female friend she met at the end of a Lyft ride in Escondido. The women, both 19, alleged that he groped them after getting them to pose for photographs with him, according to Murphy.
On Friday, Vague picked up an 18-year-old Uber customer in his blue 2014 Chrysler Town & Country minivan at the San Marcos campus of Palomar College, where she attends classes, the lieutenant told reporters.
Instead of driving the teen to her Escondido home as requested, he took her against her will to another location and sexually battered her, the lieutenant alleged. She notified police, and detectives arrested the suspect that evening.
Investigators subsequently learned that Vague, a former girls high school basketball coach, allegedly had tried in vain to lure a woman into his vehicle at the same San Marcos college on Sept. 6.
"Since there was no specific criminal violation during this incident, Vague was contacted and advised by police not to return to the campus," Murphy said.
Police believe there may be additional victims who have not come forward.
"We are asking that (they) find the courage to come forward so we can hold Vague accountable for his actions," the lieutenant said.
The suspect held his Lyft and Uber jobs for about nine and three months, respectively, according to Murphy. Both companies have suspended his employment over the criminal case.
As a student athlete, Vague a basketball player at Canada College in Redwood, San Marcos High School, where he was twice named most valuable player, and for the Utah State University Aggies, according to the latter team's website.
Uber issued the following statement:
"There is no excuse for the violent acts described and reported to police. We are working with law enforcement officials to fully support their investigation, and the driver has been banned from accessing the Uber app."
Lyft issued the following statement:
"We have a strict zero-tolerance policy for any type of violent behavior, abuse or harassment and have permanently deactivated the driver's access to the platform. Drivers on the Lyft platform undergo a thorough criminal background check across local, state and federal databases that go back in time to the maximum extent allowable by law."