This is an archived article and the information in the article may be outdated. Please look at the time stamp on the story to see when it was last updated.
SAN DIEGO — Richard Tuite, who was acquitted last week in the 1998 slaying of Stephanie Crowe, was released from jail Friday into the custody of a state parole agent, the California Department of Corrections said.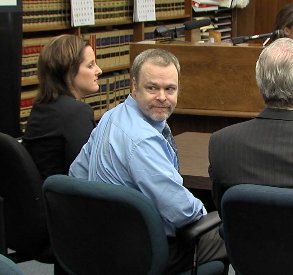 The parole agent is accompanying Tuite to an unspecified address outside of San Diego County, where he will live while he serves his brief parole,  corrections officials said. Due to the amount of time Tuite has spent in custody in the long-running case, he will spend only 10 days on parole, the maximum allowed by law, CDCR spokesman Bill Sessa said.
Tuite, 44, was acquitted last Friday of a voluntary manslaughter charge after a second trial. He was convicted of the same charge in 2004, but a federal appeals court in 2011 ruled that Tuite didn't get a fair trial because a judge limited cross-examination of a prosecution witness.
Tuite's original sentence was 13 years in prison for the manslaughter count and four years, four months behind bars for escaping from custody at the downtown courthouse and offering a deputy $24,000 to help him escape.
Before Tuite was prosecuted, Stephanie's brother, Michael Crowe, and friends Joshua Treadway and Aaron Houser were accused of her murder, and police extracted confessions. However, the admissions were later ruled to have been coerced by Escondido police and an assisting Oceanside officer under harsh interrogation tactics and the case against the boys was dismissed.
Michael Crowe, Treadway and Houser testified during Tuite's retrial that they had no involvement in Stephanie's murder.
Tuite was in the area of the Crowe residence the night Stephanie was stabbed to death, looking for woman named Tracy.
Prosecutors theorized that Tuite wandered into the Crowe home and killed Stephanie, but investigators found no physical evidence linking Tuite to the crime scene.
Analysts later found the victim's blood on two shirts that Tuite was wearing the night of the murder. Jurors who voted to acquit Tuite said they believed the defense theory of contamination, that blood from the crime scene somehow was transferred onto Tuite's clothing.