This is an archived article and the information in the article may be outdated. Please look at the time stamp on the story to see when it was last updated.
RANCHO SANTA FE, Calif. — A $5,000 reward is being offered for information that leads to the arrest of the person who mutilated four puppies and dumped them in a trash bin.
The four mutilated and malnourished puppies were discovered in a Chula Vista trash bin three months ago. They were taken in by the Helen Woodward Animal Center in Rancho Santa Fe, and one is now ready for adoption, the center said.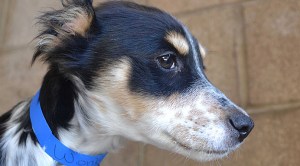 "Pongo," a spaniel blend, had his ears cut off but his wounds have healed, and he no longer requires specialized veterinary care, according to the center. The three others have not been medically cleared to be adopted.
"I have worked in animal rescue for over seven years and I don't remember ever seeing a case like this one," said Lizbeth Luna, of Animal Advocates of the United States, which partners with the center in Rancho Santa Fe.
She said a friend heard cries as she walked past the dumpster. The four puppies, estimated to be less than 5 weeks old, were in a closed box, she said.
The ears might have been cut off by an inexperienced breeder who thought the practice — called "cropping" — would make the puppies more attractive to prospective buyers, Luna said.
The procedure is rarely performed on spaniels, she said.
"We are looking for a compassionate adopter with a loving heart who can demonstrate how kind human beings can be," center President and CEO Mike Arms said. "There is a better world out there for this sweet puppy and we can't wait for him to experience it."
Information about adopting Pongo is available at the center's Adoptions Department at 858-756-4117, ext. 1.
People with information about the mutilation should contact Rita Truderung, the center's vice president of operations, at 858-756-4117, ext. 303, or via email, ritat@animalcenter.org.