This is an archived article and the information in the article may be outdated. Please look at the time stamp on the story to see when it was last updated.
SAN DIEGO — Closing arguments in the retrial of a man accused of taking part in a 2005 home invasion in Valencia Park that left two people dead focused Tuesday on whether the defendant was actually at the scene of the crime.
Tamoyia Morris, 36, is charged with murder and attempted robbery, among other counts, in connection with the deaths of Meico McGhee, 30, and Sacha Newbern, 25.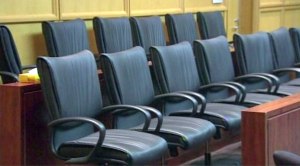 Prosecutors allege Morris and Michael Baraka Mason held a group of people captive in a house on Velma Terrace for at least five hours before the victims were forced into a bathtub and shot at close range.  Morris and Mason allegedly mistakenly believed a gang member had hidden money in the residence.
Deputy District Attorney Anthony Campagna told the seven-woman, five-man jury that DNA on a door of the house was matched to Morris, and DNA on a cigarette linked Mason to the crime.
"There's no reason for them to be there, no reason for them to be in that house," Campagna said.
Defense attorney Steve Cline, who represents Morris, countered that his client had no motive to take part in the crime.
"This is essentially an all-or-nothing proposition," Cline said. "Mr. Morris wasn't there. It's that simple."
The lawyer said the prosecution hasn't proved his client's presence beyond a reasonable doubt. The DNA could have been left at another time, he said, adding that Morris also "didn't run with the people involved" in the crime.
Mason was sentenced in April to nine life terms in prison without parole, plus more than 400 years, after being convicted of first-degree murder and other charges. Jurors couldn't reach verdicts for Morris, prompting the retrial, in which jurors will begin deliberations on Tuesday.
Morris was convicted last year of murdering Galdino Villarreal and wounding Shaun Theobalds in December 1995. He was sentenced to 52 years to life in prison in that case.