This is an archived article and the information in the article may be outdated. Please look at the time stamp on the story to see when it was last updated.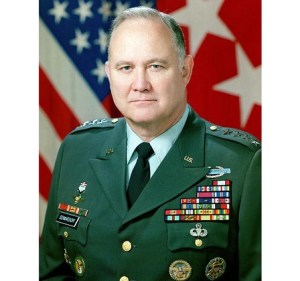 TAMPA, Fla. — Retired Gen. Norman Schwarzkopf has died in Tampa, Fla. according to news sources.
Herbert Norman Schwarzkopf Jr. was a United States Army general who, while serving as Commander of U.S. Central Command, was commander of coalition forces in the Persian Gulf War.
He commanded the U.S.-led international coalition that drove Saddam Hussein's forces out of Kuwait in 1991
President George H.W. Bush, who remains hospitalized in Texas, released the following statement Thursday.
"Barbara and I mourn the loss of a true American patriot and one of the great military leaders of his generation.. General Norm Schwarzkopf, to me, epitomized the 'duty, service, country' creed that has defended our freedom and seen this great Nation through our most trying international crises. More than that, he was a good and decent man — and a dear friend."
A much-decorated combat soldier in Vietnam, Schwarzkopf was known popularly as "Stormin' Norman" for a notoriously explosive temper.
In 1988, he was promoted to General and was appointed Commander-in-Chief of the U.S. Central Command.
The U.S. Central Command, based at MacDill Air Force Base, in Tampa, Florida, was responsible at the time for operations in the Horn of Africa, the Middle East and South Asia.
In his capacity as commander, Schwarzkopf prepared a detailed plan for the defense of the oil fields of the Persian Gulf against a hypothetical invasion by Iraq, among other plans.
The Iraq plan served as the basis of the wargame of 1990. Within the same month, Iraq invaded Kuwait, and Schwarzkopf's plan had an immediate practical application, which was as the basis for Operation Desert Shield, the defense of Saudi Arabia.
As overall commander, Schwarzkopf initially was concerned that operational forces in the theater were inadequately supplied and equipped for large-scale combat in a desert environment.
During preparations for Desert Storm, as the result of initiatives by General Schwarzkopf, the Desert camouflage combat uniform was produced in 100% cotton poplin without reinforcement panels in order to improve comfort for U.S. troops operating in the hot, dry desert conditions.
A few months later, General Schwarzkopf's offensive operational plan, called Operation Desert Storm (co-authored with his deputy commander, Lieutenant General Cal Waller and others on his staff), was the "left hook" strategy that went into Iraq behind the Iraqi forces occupying Kuwait and was widely credited with bringing the ground war to a close in just four days.
He lived in retirement in Tampa, where he had served in his last military assignment as commander-in-chief of U.S. Central Command.
That is the headquarters responsible for U.S. military and security concerns in nearly 20 countries from the eastern Mediterranean and Africa to Pakistan.