This is an archived article and the information in the article may be outdated. Please look at the time stamp on the story to see when it was last updated.
SAN DIEGO -- The retired San Diego police officer hit while riding a motorcycle during a funeral procession in Mountain View lived to talk about it.
Gary Morris retired from SDPD after serving 29 years and had been working funeral motorcades for the past four years.
On Monday, Morris was escorting a funeral procession near the intersection at 45th and Imperial streets when he was hit by a 1994 Geo, police said.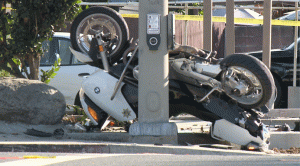 "I hear this screech and then bang," Morris said.  The next thing he knew, Morris was lying on his back in the street, unable to get up.
"I broke both my knees, my ankle and I have a hematoma the size of a truck," he said. "The way he hit me was just perfect. If I had gotten T-boned from the side, I might not be here at all."
Investigators haven't said how fast the driver who fled the scene was going.
"He left 300 feet of skid before he hit me," Morris said.  "To be going that fast is ridiculous."
The driver abandoned his car a block away.  After the incident, the search for the suspect continued for hours, but no one was found.
Morris said he knows it's a job that comes with dangers.
"A lot of times you'll have people trying to cut through the procession, especially if it's going real slow," Morris said. "We've had a lot of people in our company get hit."
Traffic detectives are investigating, but so far there have been no arrests. Detectives told Fox 5 they are following up on several leads, including one that the car might have been stolen.
PREVIOUS STORY: