This is an archived article and the information in the article may be outdated. Please look at the time stamp on the story to see when it was last updated.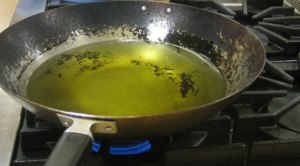 SAN DIEGO – County agencies are reminding residents to recycle the fats, oils and grease used during cooking.
I Love A Clean San Diego and the County of San Diego said cooking oil should not be poured down kitchen sinks or drains.
"When cooking oil is discarded into your kitchen sink, it accumulates inside the sewer pipes making it difficult for wastewater to flow freely to the wastewater treatment plant," said Morgan Justice-Black of I Love A Clean San Diego.  "When wastewater cannot make its way through the sewer pipes, it overflows into homes, streets, lawns, and storm drains, eventually making its way to the ocean."
Collection facilities around the county can properly dispose of the liquids, according to Justice-Black.
There is no fee associated with recycling used cooking oil and some facilities are able to turn this used cooking oil into fuel for cars and other machines.
The county has several drop-off locations.  Unincorporated county residents should contact the County's Recycling and Household Hazardous Waste website or call 877-713-2784.