This is an archived article and the information in the article may be outdated. Please look at the time stamp on the story to see when it was last updated.
SAN DIEGO -- An abused 3-month-old terrier is recovering at County Animal Services after being abandoned Wednesday night in Santee.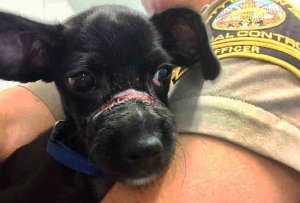 "We got the call on Wednesday evening that someone saw, over by the sonic in Santee, that a car drove away and this little puppy was in that spot," said County Animal Services Director Dan DeSousa.
The puppy was injured by what appeared to have been rubber bands or some other material that had been wrapped around his snout. The cuts from the bands were through the flesh on the dog's snout.
The puppy was brought to the animal care facility in Bonita where he was examined and treated by medical staff.
"There's no question this puppy has been abused," said DeSousa. "Perhaps it was a misguided attempt to stop the little dog from barking, but pet owners should not stoop to these steps as there are other options open to them, like training."
The person who called Animal Services said she was at a fast food restaurant when an orange Dodge Charger stopped nearby, paused for a second and then pulled away. The caller said the puppy ran away from the spot where the car had stopped and hid under another vehicle.
DeSousa says it appears the bands were removed from the dog's snout several days before he was found. The wounds were starting to heal and the six-and-a-half pound puppy did not have any other injuries.
The puppy didn't have any identification so he will go up for adoption once he's fully recovered. To fill out an application, click here.
Based upon the seriousness of the dog's injuries, the department said it may start an animal abuse investigation.
"We have the powers to arrest. This could come down to felony animal cruelty,  this puppy obviously suffered," said DeSousa.
Anyone with information on the case can call the department at 619-498-2305.  If convicted of animal cruelty, a suspect could face up to three years in prison, a fine of up to $20,000 or both.