This is an archived article and the information in the article may be outdated. Please look at the time stamp on the story to see when it was last updated.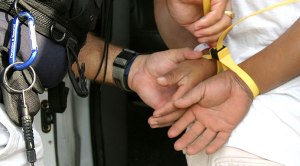 SAN DIEGO — Arrest rates for both adults and juveniles across San Diego County in 2011 dipped by double digits, according to an annual report released Wednesday.
The decreases in criminal apprehensions last year held true for all age and ethnic groups, as well as for both felony and misdemeanor offenses, according to the study by the San Diego Association of Governments.
A dramatic trend revealed by the data was that the region experienced a drop of 90 percent in marijuana-related arrests, a change that the SANDAG analysis attributes to a change in state law.
California Senate Bill 1449, which took effect on Jan. 1, 2011, reduced the charge for possession of up to an ounce of cannabis from a misdemeanor to an infraction. Following the change, the number of misdemeanor-level arrests for marijuana offenses in the region plummeted to 703 last year, down from 6,786 in 2010.
Countywide, 36.7 adults were arrested in 2011 per 1,000 population. That represented an 11 percent decrease from 2010 and a new 10-year low. The juvenile arrest rate in 2011 was 41.1 per 1,000, 18 percent lower than in 2010.
Last year, regional law enforcement agencies arrested a total of 87,781 adults and 13,629 juveniles. An average of 240 adults and 37 juveniles were arrested each day in the county.
Other findings in the report, "Arrests 2011: Law Enforcement Response to Crime in the San Diego Region," include:
arrests for violent crimes, such as homicides, rapes and aggravated assaults, were down for both adults and juveniles;
about half of adult arrests were for alcohol and drug-related offenses; nearly 1,300 adults on average were arrested each month for driving while intoxicated, the most common reason an adult in San Diego County is arrested;
the three adult-arrest categories with the greatest one-year decreases were marijuana possession (98 percent), prostitution (40 percent) and traffic violations (35 percent);
the three juvenile-arrest categories with the largest single-year decreases were marijuana possession (57 percent), narcotics offenses (38 percent) and larceny (35 percent);
the most common cause for juvenile arrests was curfew violation; and
truancy arrests went down by 51 percent in 2011, but arrests for runaway behavior and curfew violations were up slightly (1 percent and 2 percent, respectively).