This is an archived article and the information in the article may be outdated. Please look at the time stamp on the story to see when it was last updated.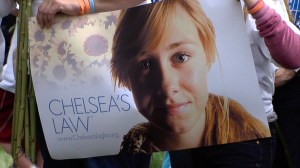 SAN DIEGO — The Chelsea's Light Foundation released its annual report showing the impact of Chelsea's Law.  Between September 2012 and August 2013, 382 people were charged under Chelsea's Law in San Diego, Los Angeles Orange and Riverside Counties.
"These are some of the worst of the worst in society," said Chelsea's Light Foundation Board Member Andrew Skale."Anything we can do to protect our children from them, is a great thing."
Poway teen Chelsea King was murdered in 2010 by a violent sexual predator who had offended in the past.  Chelsea's Law, signed in September 2010, strengthens penalties for violent sexual offenders who attack children.  It included a "one-strike" life without parole sentencing option for the worst crimes.
"If it can save one person from what happened to Chelsea, the law is a success and we believe it is a success," said Skale.
The third annual report breaks down specific charges in specific areas.  It is meant to inform the public and also to encourage other states to pass a similar law.  Skale said the word is getting out.
"We've had success in Texas, Ohio and we're moving now to all other states," he said. "Our goal is to make it so Chelsea's Law is in effect in every state in the country."
The report was released just before the annual Chelsea's Run 5k event at Balboa Park on March 1st.
"It's a great way to remember Chelsea as an individual and keep her spirit alive which was so incredible," Skale said.