This is an archived article and the information in the article may be outdated. Please look at the time stamp on the story to see when it was last updated.
SAN DIEGO — Planning is underway for an overhaul of the Botanical Building in Balboa Park, the president of the Balboa Park Conservancy Board of Directors said Thursday.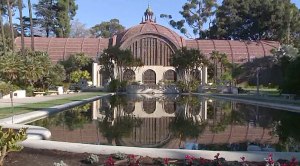 The structure has a crumbling roof, plus there are issues with water management and problems in the gardens, Carol Chang told City News Service.
"That is really an iconic building," Chang said. "It's a wonderful building, but it needs to be more wonderful. It needs some care."
The 99-year-old building at the foot of the lily pond will also receive new lighting.
The Botanical Building is one of the largest structures in the world made in a lath style, with strips of wood spaced slightly apart to let in sunlight. It's home to around 2,100 plants, including collections of cycads, ferns, orchids and palms.
She said the job is expected to cost a few million dollars, but a specific tally has not been conducted. The conservancy is collaborating with the city of San Diego, the San Diego Zoo and Friends of Balboa Park on the project, an arrangement Change hopes will be a prototype for future upgrades.
Numerous facilities in the park are in need of repair. The Botanical Building is the biggest structure in the park that does not house some kind of institution that's required to maintain the interior as part of its lease with the city.
The condition of the building is "an example of what you can find throughout the park," Chang said.
Chang and Interim Mayor Todd Gloria were set to announce the project and welcome San Diegans to this weekend's December Nights holiday festival at a news conference late this afternoon.
Chang said she will use the opportunity to call for donations for the project, which would be completed in time for the 2015 celebration of the park's 100th anniversary.
The annual December Nights celebration, in which museums offer free admission and live entertainment throughout the festively decorated park, will take place Friday and Saturday.