This is an archived article and the information in the article may be outdated. Please look at the time stamp on the story to see when it was last updated.
OCEANSIDE, Calif. – On the anniversary of his death, Junior Seau's family held a private ceremony celebrating his amazing life.
Spoken mostly in Samoan, the celebration marked an end to the mourning process and a renewed commitment to living life to the fullest, a sentiment exemplified by Seau every day of his life.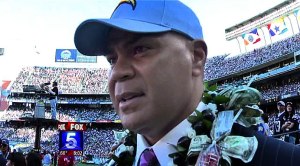 "We are here today to bless our friend our brother, our cousin, our son," said Seau's brother Savaii Seau, as he welcomed everyone to the celebration. "We loved him dearly for 43 years and here we are."
They gathered at Seau's Oceanside grave-site to honor his memory and celebrate his life in a private traditional Samoan ceremony.
Janette Os-Soto admitted the celebration of her brother's death was not easy.
"It's still a little hard like a wound re-opening from the beginning, from the first time," Os-Soto said.
The NFL superstar and San Diego's hometown hero was found dead of a self-inflicted gunshot wound in his Oceanside home May 2, 2012. An autopsy revealed he had a degenerative brain disease typically seen in people with a history of repetitive brain injury.
During his career, he played 20 seasons with the NFL, the first 13 with the San Diego Chargers and went to the Pro-Bowl 12 consecutive seasons.
His friends and family said it was his passion and commitment off the field that he is most remembered for by those who knew and loved him.
"He was a tremendous  giver and lover of people," said former teammate Mark Walczak.
"Junior wasn't meant for just the Samoan people but for the whole world," said his uncle Benson Mauga. "That's always hardest – the heart of a champion."
A champion who was known to his close friends as "buddy" – the loss still hard for them to talk about. "What do I miss? That's a tough one," said Walcczak. "I just miss he smile, his love, his energy –  hard to replace that."
Indeed Junior Seau was one of a kind on and off the field and even in death, still giving back, it may be his legacy that the game of football becomes more safe for players.