This is an archived article and the information in the article may be outdated. Please look at the time stamp on the story to see when it was last updated.
SAN DIEGO — SeaWorld San Diego released several rehabilitated brown pelicans into the wild Wednesday.  The four birds were released at Hospitality Point in Mission Bay.   Two of the birds were found in Tuscan, Arizona, at the end of June emaciated and dehydrated.
"We had them for the last few weeks getting them over an infection and some other health issues and today they're strong and healthy an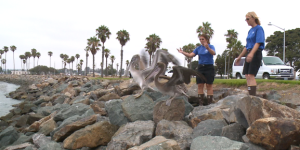 d ready to go," said Kim Peterson, Supervisor of Birds at SeaWorld San Diego.
Two others were found locally also underweight.  All of the birds are young between three and four months old.
"They're migrating North," said Peterson. The two that were in Arizona got blown off course by, very likely, monsoon winds and ended up in the desert. Two of them were here on our local beaches just having a hard time making a go of it on their own without their parents."
Experts say many of the birds have been found underweight in the past week due to a lack of fish they normally hunt on the coast.  SeaWorld has rehabilitated 60 of the birds since the beginning of the year.  SeaWorld officials wrote numbers on the birds that will last a few days and will identify them if they get into trouble soon after being released.
"They'll probably stay here in our local beaches so we'll probably see them all the way up and down the coast," said Peterson.
The park is currently caring for 16 pelicans.