This is an archived article and the information in the article may be outdated. Please look at the time stamp on the story to see when it was last updated.
SAN DIEGO — The region's first proton treatment center for cancer patients opened Wednesday in Mira Mesa.
The $220 million Scripps Proton Center is the 15th of its kind in the country and the second in the state.
"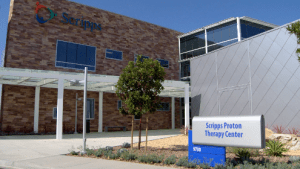 It was just really difficult," said Terra Barton, whose now 7-year-old daughter Finley was diagnosed with a brain tumor 4 years ago. "Having one here would have changed things drastically."
The Barton family wanted proton therapy and commuted to Houston, Texas for the treatment.
"We would have loved to have been able to stay," said Barton. "We had to get an apartment there and fly back and forth because we have another child who is in school here."
The 102,000-square-foot center is the first in the country to use pencil beam scanning exclusively.
"It's a little beam of protons literally the width of a pencil lead to exquisitely paint the radiation dose to whatever we need," said Dr. Carl Rossi, the center's medical director.
He said this allows doctors to be more exact unlike x-ray therapy, protons stop.
"They actually can be stopped within the body, within the tumor, whatever target we pick without giving radiation to the normal tissues beyond it," he said.
The Barton family said having access to a facility like this is one of many reasons to be grateful.
"She's doing really good," Barton said of Finley. "She's two and a half years cancer free."
The center is expected to treat 2,400 patients a year.