This is an archived article and the information in the article may be outdated. Please look at the time stamp on the story to see when it was last updated.
COLORADO SPRINGS, Colo. – The volleyball community is grieving after a well-known referee suffered an aneurysm while officiating a college match in Colorado Springs Tuesday night.
Referee Dan Apol, 44, was officiating a Rocky Mountain Athletic Conference volleyball match on Tuesday when he became disoriented, his friend posted on Facebook. He was taken to a hospital where he died Wednesday morning, according to the FIVB.
Three-time Olympic champion Kerri Walsh-Jennings paid tribute to Apol on Facebook.
The Denver native was among 16 referees at the Rio Olympic Games and had also officiated at the London Games in 2012. He was one of a few referees in the world certified for International FIVB beach, International Para-volley (handicapped) and NCAA, according to Volleyball Magazine.
USA Volleyball Board of Directors Chair Lori Okimura released a statement to the magazine: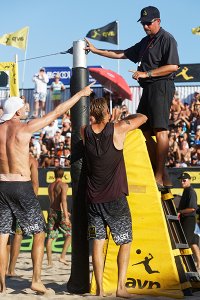 Dan Apol was first and foremost an amazing and very dear friend. I had the privilege of working with Dan for many seasons on the FIVB World Tour. He was often the first one at the site and the last one to leave, always offering assistance and a kind word exactly where and when it was needed. I remember fondly Dan volunteering to work the FIVB Beach Volleyball World Championships for the under 19-age group in Bermuda back in 2006. When Hurricane Florence hit the island Dan was the first to grab the shovels and buckets to start bailing out court number 6 then court 5 then court 4 and eventually made his way with the backhoe, the shovels and the buckets all the way to court number 1.
He was one of the greatest ambassadors for USA Volleyball and one of our most accomplished Olympic and Paralympic international referees. His knowledge of the game, his professionalism, his kindness and sense of humor and his passion for those who played are among the many reasons why Dan was so well respected around the world. I was proud of him every time he stood up on the stand, and I was honored to call him a friend.
The entire volleyball family lost a great one today. We will deeply miss Dan Apol – a dedicated referee, a better person. Thank you. 🌲 pic.twitter.com/ksHFW2sasZ

— Stanford Beach Volleyball (@StanfordBeachVB) November 17, 2016
Apol is survived by his wife Bonnie.