This is an archived article and the information in the article may be outdated. Please look at the time stamp on the story to see when it was last updated.
EL CAJON, Calif. — A woman was killed Friday morning when her car was broadsided by a another driver who ran a red light, police said.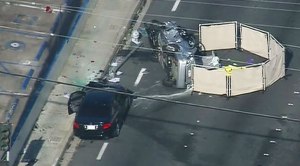 The crash happened shortly before 6:24 a.m. in the intersection of Mollison and Washington avenues, investigators said. A  black Acura Integra traveling westbound on Washington did not stop for a red light and slammed into a silver Chevy Sonic that was crossing Washington on Mollison on the green light, according to witnesses.
The Chevy was pushed down Washington by the impact and overturned. The 36-year-old woman driver was not wearing a seatbelt and died from her injuries at the scene, police said.
The 43-year-old man driving the Honda was injured at taken to a local hospital. His injuries did not appear to be life-threatening, police said.
Both drivers were El Cajon residents. Their names were not released.