This is an archived article and the information in the article may be outdated. Please look at the time stamp on the story to see when it was last updated.
EL CAJON, Calif. – A 36-year old woman is killed Friday Morning when she collided with another driver who ran a red light.
The accident happened just after 6:30 a.m. at the intersection of Washington and South Mollison Avenues.
"I saw a car come out of nowhere and just boom!" said Ronald, a witness. "No brakes or nothing!"
El Cajon Police said a black Acura Integra was going west on Washington when it ran a red light, that's when a silver Chevy Sonic entered was trying to cross S. Mollison.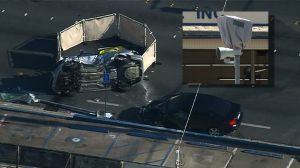 "The black car was just coming and then it spun around, but the silver car flipped over on its side," said Ronald.
The driver of the Sonic was pronounced dead at the scene.  Investigators said she was not wearing her seatbelt.  The driver of the Integra was taken to the hospital, her injuries unknown.
"They always red red lights, every single time," said Marco Martinez, resident.
Martinez lives in the neighborhood.  He told Fox 5 the intersection is notorious for red light runners.  "This street always has a problem with people and red lights, I see it all the time."
A problem Fox 5 recently investigated after El Cajon turned off red-light cameras at 7 various intersections.
Records from Redflex Traffic Systems, the company who operates the cameras shows in 2012, from February  to April 17th, there were 1,967 cases of red light runners.
Ever since the cameras were deactivated, the system continued to track violators.
During the same time period of last year, Redflex found the number of people running red lights increased to 3,149.
"That thing used to go off every 4 or 5 minutes," said Joe Heuy.  He owns Autohaus Stebel, Inc. that sits on the corner of Washington and Mollision.  Heuy is all too familiar with the problem.
"I can't tell you how many times I was sitting at my desk and you hear
an engine downshift right in front of a light.  You know somebody is accelerating to go through," said Heuy.
He said to turn off the cameras is a big mistake.
"I wish they didn't it's a deterrent for people," said Heuy.  "It does keep people from running the red light.
Others said the cameras may have even helped to save lives.
"I know it would have prevented something like this," said Martinez as he watched crews clean up the accident scene.  "It's sad that somebody died.