This is an archived article and the information in the article may be outdated. Please look at the time stamp on the story to see when it was last updated.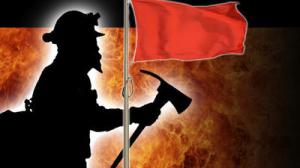 SAN DIEGO — Forecasts calling for stiff winds and extra-low humidity across the San Diego area this weekend prompted the National Weather Service today to issue a "red flag" wildfire warning, effective from noon Saturday to 6 p.m. Sunday.
During the period, "critical" brush-fire risks will prevail due to sustained winds of 15-30 mph around the region, with gusts up to 65 mph in some locales, and daytime air-moisture levels dipping to about 10 percent, according to the federal agency.
The conditions are expected to begin improving Sunday evening, though stronger-than-usual winds and dry atmospheric conditions will continue Monday, NWS officials said.