This is an archived article and the information in the article may be outdated. Please look at the time stamp on the story to see when it was last updated.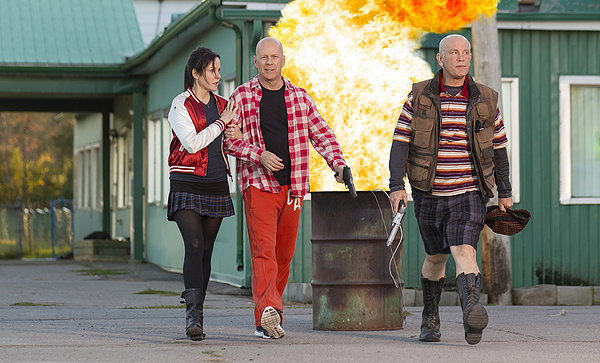 I didn't like the first Red. It was cute in moments, and it had fun winking at the audience with the premise of old CIA hitmen/women, or whatever it was. I'm in the minority on my feelings of that film.
Everyone will be in agreement on Red 2: Machine Gun Boogaloo. It's ridiculously bad.
Here's the plot: retired agent Frank Moses (the bald Bruce Willis), is praising all the items in the aisles of Costco. It's not for the free samples, but the various vacuums and things he can buy. A memo links him and Marvin Boggs (John Malkovich) to a nuclear weapon, and Boggs tries to convince him to get back in the game. Girlfriend Sarah (played in annoying fashion by Mary-Louise Parker) thinks her man is boring, and she yearns for more shooting. Perhaps she should go over to the free samples in some of the aisles, and try fighting for her life against customers that want a small slab of cheese. But I digest.
Frank and Marvin have to try and clear their names (and speaking of names, for a character named Marvin in a much better movie – Netflix the movie Midnight Run, easily the best of this type of action/comedy ever made).
There are also a few people hired to kill them – Helen Mirren and Byung-hun Lee.
Sure, in real life, Willis has a much younger wife, but I want to know if she's the one picking his scripts. He did the horrible A Good Day to Die Hard, The Whole Ten Yards…did his ability to pick scripts disappear with his hair?
Since Comic Con is here, it's worth noting that this director did one of the most fun sci-fi comedies ever – Galaxy Quest. I have no clue what he was thinking with this mess.
When a bad guy (Neal McDonough) has Willis tied up, there's a fun sequence of events in which he eventually escapes (a "spoiler alert" wasn't needed there, was it?). I did laugh when Malkovich was wearing a cowboy hat while holding a rifle. I swear, if you didn't hear his voice, you'd think it was Ted Nugent. Again, I digress.
The action takes a back seat, while we're introduced to all these other goofy characters. Catherine Zeta-Jones is a Russian agent that French kisses Willis in front of Parker. Not sure how this is humorous, or Parker saying "Can we just kill her?"
Anthony Hopkins brings a little Hannibal fun to his locked-up genius named "The Frog."
When the third act rolls around, and we're back to lots of action sequences, that's when you get to see ridiculous things that cars and guns do that defy physics. One example is an SUV going about 80 mph, hitting a parked SUV head on. What happens? Well, the SUV flies and flips about five times in the air. Not sure how that is even possible, but it's a minor complaint. The way the movie ends with a nuclear bomb, is a thousand times more idiotic.
The movie is an insult to your intelligence, and it appears the actors feel the same way. They're merely going through the motions.
Avoid it all costs. It gets 1 star out of 5.