This is an archived article and the information in the article may be outdated. Please look at the time stamp on the story to see when it was last updated.
SAN DIEGO - Temperatures are expected to be "much above normal" in the San Diego area and throughout Southern California by Thanksgiving, the National Weather Service said Sunday.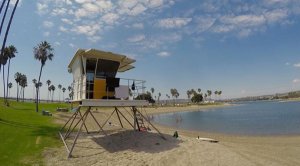 Coastal areas are expected to see highs in the mid-to-low-80s beginning Tuesday, with that day's highs predicted to be a full 10 degrees higher than the Monday's in some places.
Inland areas are expected to see even higher temperatures.
Highs of as much as 90 degrees are predicted for Escondido and Ramona on Wednesday.
Temperatures will peak Wednesday, then drop slightly for Thanksgiving Day in most areas, the NWS said.