This is an archived article and the information in the article may be outdated. Please look at the time stamp on the story to see when it was last updated.
SAN DIEGO – After what became a personal rivalry, the leaders of two efforts to recall Mayor Bob Filner out of office said Wednesday they are willing to work together.
A meeting Wednesday brought Michael Pallamary and Stampp Corbin together to discuss whether it was beneficial to combine their recall campaigns.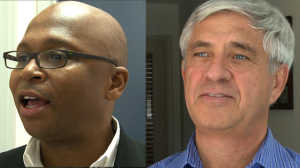 Both Pallamary, who has led a successful recall in San Diego in the past, and LGBT Weekly publisher Corbin kicked off their recall campaigns earlier this week.  That set off a storm of sabotage and slander accusations between the two.
Pallamary said Susan Jester, a friend of Corbin, claimed Corbin joked about sabotaging the recall a week before starting his own campaign.
"A lot of things get blown out of proportion, because there were third parties talking about conversations," said Pallamary. "We've cleared the air, and that's between them."
Now the men are saying they're hoping to join forces and increase their chances to successfully recall Filner from office.
"We both have a common goal and that is to remove Mayor Filner," said Pallamary.
"I think people are going to be surprised by how many signatures we get," said Corbin.
A successful recall effort needs 102,000 signatures.