This is an archived article and the information in the article may be outdated. Please look at the time stamp on the story to see when it was last updated.
SAN DIEGO — The group trying to recall Mayor Bob Filner is ramping up its game plan by hiring a few local heavy hitters in the political and fundraising arena.
"The team includes highly respected local campaign veterans consultant John Hoy, treasurer April Boling and fundraiser Jean Freelove," said the Recall Bob Filner campaign new communications director Rachel Laing.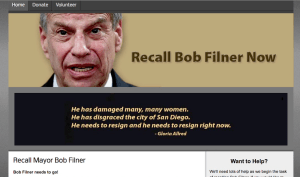 "I had my doubts in the beginning, but I don't have my doubts anymore," said Boling.
When it comes to money, Boling said the campaign will need at least half a million dollars, but she thinks those who want to see the recall happen will deliver.
"I'm very surprised by the public outpouring. There are hundreds, if not thousands, of small contributions coming in," Boling said.
Campaign organizers are also reaching out to City Council for help.
"The Recall Filner campaign wants to enlist your help in collecting signatures," said campaign co-chair Stampp Corbin, reading a letter he sent to City Council members asking them to use their political campaigns and organizations to help gather signatures.
"You need to step forward and collect signatures," Corbin said.
Members of City Council are allowed to help with the recall so long it's on their own time and dime.
"It's certainly something that I would support," said City Councilman Kevin Faulconer. He is one of seven members of council calling on Mayor Bob Filner to resign amid the sexual harassment accusations against him.
Faulconer said he'd rather see Filner step down and save tax payer's money, but said he'd willing to gather signatures himself to support the recall.
Councilman Scott Sherman had a similar response. Council President Todd Gloria did respond saying he'd like to avoid a recall and once again called on San Diego's Mayor to resign.
The campaign has also reached out to the local Democratic Party and Republican Party for help.
Signature gathering can begin August 18.