This is an archived article and the information in the article may be outdated. Please look at the time stamp on the story to see when it was last updated.
SAN DIEGO – The luxury home market is bouncing back and thanks to the recession many buyers can get homes they couldn't afford before.
Real estate mogul and star of the Real Housewives of Beverly Hills Mauricio Umansky said now is the time to buy.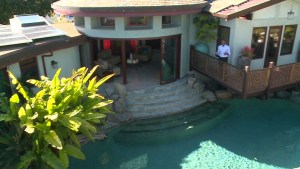 Waterfalls, heated floors, ocean views and imported doors dating back to the Ming Dynasty give the house, Umansky is selling on Cottontail, the perfect balance of peace and drama.
"This property is really unique and that's what really attracted me to the property, its Zen like feeling, really it's energy," Umansky said.
Although 90210 is Umansky's home turf, he's venturing south because of San Diego's dynamic real estate market.
The luxury home market is recovering which means more high-end houses are going up for sale.
We're seeing a "great reduction in prices in some cases 30 percent to 40 percent," Umansky said. "Right now, it's the perfect storm, which is an opportunity [because] the mortgage rates are still really low."
Locals aren't the only ones interested in San Diego real estate. Co-listing agent Joy Bender said there is growing international interest and there is one reason why.
"Waterfront properties, ocean views and the lifestyle here in Southern California," Bender said.
At more than 5,000 sq. ft., the home Umansky has co-listed is going for around $3.5 million.
If you watch the Real Housewives, you know Umansky may have a few reasons to put a bid in.
"Kyle and I have always loved La Jolla and this area of San Diego," Umansky said. "We also like Del Mar a lot, so there's always a chance you might get Kyle and I down here soon."