This is an archived article and the information in the article may be outdated. Please look at the time stamp on the story to see when it was last updated.
SAN DIEGO – A pod of rarely seen false killer whales is making a splash along the coast of Southern California.
Whale watchers off of Orange County's Dana Point got a once in a lifetime sighting of false killer whales this week.
"It's probably been the best three days of our lives here," said Captain Hartman of Dana Wharf.  He spotted the the pod of about 40 false killer whales not once, but four times since Wednesday.
"They rubbed themselves up against the boat," said Hartmann.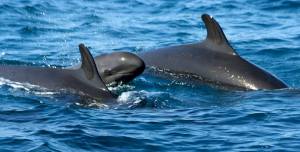 Experts say this species, which resembles killer whales but is actually quite harmless, is rarely seen off of Southern California's coast.
"It's a huge deal because this kind of whale prefers warmer water," said Erin Gless, a naturalist for San Diego Whale Watch.
Gless said the pod was probably following a food source and that brought the pod to the coast.
The last recording sighting of false killer whales off the coast of Southern California was more than a decade ago.
"We had one sighting in 2001 and prior to that the last sighting was in the 70's," said Gless.
On Thursday the pod of whales headed south towards San Diego.
When she heard this, whale enthusiast Sandy Rosenberg immediately booked a tour with San Diego Whale Watch in Mission Bay
"I have never seen a false killer whale and I really want to," said Rosenberg.
Rosenberg said she spotted plenty of whales on her tour, but no false killer whales surfaced.
Captain Hartmann said it is an experience he will always remember, "We're still kind of on a high from it," he said.