This is an archived article and the information in the article may be outdated. Please look at the time stamp on the story to see when it was last updated.
RAMONA, Calif. – A high school sophomore died Wednesday after being hit in the chest with a softball during gym class in Ramona, school officials said.
Taylor Dorman, 16, was in the middle of playing "Over the Line," an improvised softball game, when he was struck in the chest with the ball around 11:40 a.m., Ramona High School principal Tony Newman said.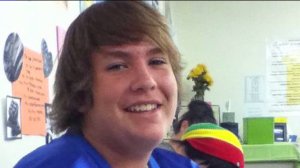 "After being hit Taylor complained of his chest hurting then he collapsed," Newman said.
A helicopter landed on the school's field and transported Dorman to Palomar Medical Center where he died.
Students and faculty gathered at the school Wednesday evening to mourn his death – and celebrate his birthday – Dorman turned 16-years-old Wednesday.
His friends said Dorman was a tough competitor and played freshman football.
"We had planned our lives together. We were going to play football for another two years and then join the military," said Chris Hartness, one of Dorman's best friends. "Now that's all gone."
Friends told Fox 5 that Dorman's father died of a heart attack when he was young.
The cause of death was not immediately released.