This is an archived article and the information in the article may be outdated. Please look at the time stamp on the story to see when it was last updated.
SAN DIEGO – Rainy weather almost jeopardized two annual holiday celebrations Saturday.
The cool air from the Arctic brought scattered showers to San Diego County throughout the morning and midday.
Temperatures only reached the mid 50's in coastal areas – about ten to fifteen degrees below the seasonal average.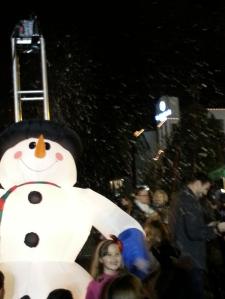 "I'm just trying to stay warm," said San Diegan, Katrina Donnell. "Even though it doesn't really get cold in San Diego, this is kind of cold. We're kind of wimps."
The rain created slippery roads, and causes many highway accidents.
It also worried many who were getting ready for outdoor holiday events, especially for Caitanya Cook, who planned to drive her 1965 Lincoln Continental at the 34th Annual Ocean Beach Christmas Parade.
"Why did I detail it?" said Cook. "All the hard work… It was actually sprinkling as I was detailing it!"
But by 4:00PM, all of the Alto Cumulous Clouds in the Coastal areas drifted away. So the parade went on as planned.
"We were crossing our fingers for no rain, and drove down here, and we've been lucky!" said Lori Cooper, who attended the Parade.
But the cold temperatures stuck around. Some participants gave advice to some getting goose bumps.
"As long as I keep the hips moving, keep the things shaking, you'll stay warm," said "Elvis" from the James Gang float.
Meanwhile in Little Italy, others bundled up as they watched the Annual Tree Lighting ceremony.
"It's chilly," said Rose Limandri, who has been attended the Lighting Ceremony for the last 14 years. "I've been wearing a turtleneck all day, so I'm a little warm, so as a precaution, I took my heavy coat out."
At 7:00 PM, hundreds gathered on the corner of Date and India Streets to witness the holiday tree light up.
"It's the start of Christmas," said Gabriella Anderson, who attended the event. "Because it's here in Little Italy, and because our Lady of the Rosary is the center of this town, it just means something special to us every year."