This is an archived article and the information in the article may be outdated. Please look at the time stamp on the story to see when it was last updated.
SAN DIEGO — Federal agents raided the One on One marijuana dispensary in downtown San Diego last week, but the owner he wants to reopen as soon as possible.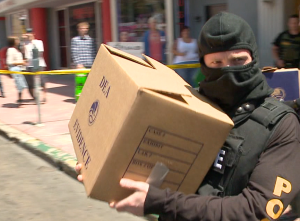 "That's what my heart tells me to do," said Ken Cole, owner of One on One.
But Cole said the risks are still too high and he wants to wait on city government to vote on a new medical marijuana ordinance currently being drafted.
It would allow dispensaries to operate and be regulated within the city, but many are questioning whether an ordinance could offer any protection from US Drug Enforcement agents to dispensaries given the conflict between state and federal law.
"I thought we were being robbed," said Mike Klein who was working at the dispensary when the Feds broke through the glass entrance to conduct their search warrant.
"Honestly they kind of looked like terrorists since they were wearing masks," said Klein.
Federal agents ripped out every security camera and raided the place claiming it was operating illegally under federal law, which unlike California, does not approve or recognize the use of marijuana for medical purposes.
"Does a criminal organization register with the Secretary of State, pay sales tax, pay employee salaries?" said John Murphy, an attorney representing the dispensary.
Employees say One on One provided medical marijuana to some 13 thousand people, many of whom suffer from chronic illnesses.
"I have emphysema," said Vey Linville who carries an air tank everywhere he goes due to his medical condition. He says marijuana helps him breath and stay active.
Linville said since the raid, he's been left with limited options to get cannabis. He would not disclose how or where he's getting it now.
"Our patients don't want to purchase any type of marijuana illegally, but they force that, now our patients are going into allies, now the cartels are back," said Murphy.
Medical marijuana users are also worried over documents holding medical information, which were also seized by Federal agents during the raid last week.
"It has my condition, my address, it has my phone number," one woman told FOX 5.
Attorneys representing the dispensary are also accusing the US Drug Enforcement Administration of unfairly enforcing federal law.
"Their actions in northern California have been different than southern California, Washington and Colorado have passed recreational use, Alaska is considering the same thing and here they are in San Diego California cracking down on seriously ill patients," said Murphy.