This is an archived article and the information in the article may be outdated. Please look at the time stamp on the story to see when it was last updated.
SAN DIEGO—Dolphins may be the best medicine for a group of Rady Children's Hospital patients. Nearly a dozen kids are getting out of the hospital and into the water.
There was a lot of splashing and dolphin riding Wednesday morning and a couple hours at SeaWorld was a much-needed break for Monica Rocha.
The 14-year-old has been fighting leukemia, but Wednesday she just fought the shivers.
"I was in the hospital for months and everything and I was like 'I want to get out, I want to get out,' Rocha said. "It was really cool that I was able to come out and swim with the dolphins."
Thanks to SeaWorld, nearly a dozen patients from Rady Children's hospital can forget about their illnesses for a couple hours while they swim with bottle-nose dolphins.
A SeaWorld trainer who had her own hard battle with cancer started the program.
The smiles w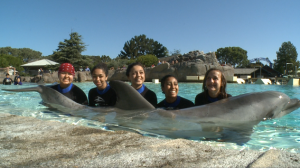 ere contagious and it's hard to tell who had more fun; the kids or their parents.
"I had chills," Jen Inman said after her son Aidan got out of the pool.
"Seriously I was almost crying the whole time just watching his face and watching that beautiful smile just knowing that he is going to take that with him the rest of his life," Inman said.
SeaWorld's support for the Rady Children's Hospital doesn't stop here. The park is gearing up for its annual Shamu & You Family Walk in October that will benefit the hospital.