This is an archived article and the information in the article may be outdated. Please look at the time stamp on the story to see when it was last updated.
SAN DIEGO — A young cancer patient from South Bay is using his battle with the disease to inspire others.
Jose Montaño was diagnosed with brain cancer more than two years ago and decided to help out kids in the same position by making small deliveries that have a huge impact.
"Sometimes people in the hospital don't have money and they don't have time, so when they're hungry they need a snack," Montaño said.
He knows first-hand what that is like. He's undergone intense cranio-spinal radiation and chemotherapy since he was diagnosed.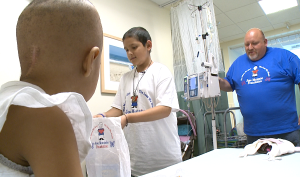 "This is a metastatic cancer. It has spread so this is one of the highest stages that we have," Rady Children's Hospital Director of Neuro-Oncology Dr. John Crawford said.
"The disease is called Medulloblastoma. It's the most malignant brain tumor of childhood," Crawford said. "Overall childhood brain tumors are in about five in every 100,000 children per year."
Other therapies haven't worked so he's enrolled in one of the hospital's three clinical trials.
Montaño comes to the hospital five days a week and he brings a little something extra once a month – happiness in the form of gift bags.
He brings snacks for the parents and toys for the patients.
"[The hospital] has really helped me, so I want to help them back," Montaño said.
With the help of his parents, he started the Jose Montaño Foundation to give a hand to other families in their position.
"For one minute he makes them forget that they have a malignant brain tumor," Crawford said. "I think it's a very powerful message that this boy has brought."
Jose has been doing this for months, but it isn't his first attempt at giving back.
He got a visit from the Make A Wish Foundation last year and he chose a new playground for his school.
"Even though he is 12-years-old, he has taught me more about life than what life itself has taught me in 44 years," his father Jose Montaño said. "I am extremely proud of my son."
Jose is not slowing down. His foundation is doing a 5K walk/run at Liberty Station on October 13 and he's hoping he'll raise enough money to reach more families.
Even though he has a long road ahead, Montaño said giving back is the best medicine.
"You get a feeling when you do something good," Jose said. "It makes me feel really good."