This is an archived article and the information in the article may be outdated. Please look at the time stamp on the story to see when it was last updated.
SAN DIEGO — Thoroughbred racing is set to return to the Del Mar Racetrack for its 75th season Thursday, kicking off with the 20th annual hats contest and the $100,000 Oceanside Stakes.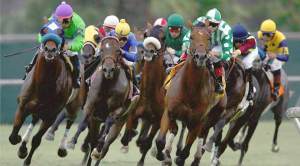 The hats contest, an opening day fixture in the Plaza de Mexico, features categories like Best Racing Theme, Funniest/Most Outrageous, Most Glamorous, Best Flowers/All Others, and Best Fascinator — a wool, lace or feather alternative to a hat.
The top prize in each category is $300, plus a $100 gift certificate from the Studio Savvy salon. Second place in $200 and third place is $100.
A grand prize winner will receive a two-night stay at The Grand Del Mar hotel and dinner for two, valued at more than $1,000, along with a $500 gift certificate from The Village Hat Shop.
The race season runs through Sept. 3 and, this year, a 15-date mini- season will be held in November.
"Our fall race meeting starting this year will be totally separate from our summer session," said Del Mar Thoroughbred Club president and CEO Joe Harper. "They will be two different animals. We know our summer meet is a winner — we've proven it over and over again. And we expect our autumn run can be special, too, in its own way."
The annual highlight of the summer racing season, the $1 million TVG Pacific Classic, is set for Aug. 24.
Races are scheduled Wednesday through Sunday, with the first-race post time at 2 p.m. most days. On Fridays, the first post is 4 p.m.
On opening day, clubhouse admission will be $20 and stretch run admission $10. Admission prices will be $10 for the clubhouse and $6 for the stretch run on all other days.
Expert gambler Christian Hellmers has won the pick six 8 times and has some good advice for novices dreaming of winning big. "Never bet below 5 to1 odds or you'll break even at best…
Don't bet trifectas or exactas, until you know what you are doing," said hellmers the current reigning champion of the world series of horse race betting. "Bet to win and remember it's not the jockey or the trainer, it's the horse that wins the race."