This is an archived article and the information in the article may be outdated. Please look at the time stamp on the story to see when it was last updated.
SAN DIEGO – The sudden appointment of new San Diego Unified School Superintendent Cindy Martin has controversy brewing in the district.
"Twenty-four hours after somebody resigns we have a new superintendent?" asked Mark Powell, a former district administrator and recent school board candidate.
Powell and Jared Hamilton, another former candidate, questioned the sudden decision.
"It would be nice to have a little more input, a little more involvement," said Hamilton.
"How did they come up with unanimous support in such a short period of time," asked Powell.
"It was a Eureka moment fo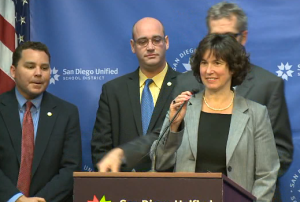 r the boardmembers," said boardmember Scott Barnett.
Barnett told Fox 5 the decision was a no-brainer.
"Truly, very quickly we all said we think Cindy Martin is the best person for the job.  Let's do it!" Barnett said.
Barnett said Martin is one of the best-known educators in San Diego.  She is known for her focus on students and for her great success at Central Elementary School in City Heights.  The school has the reputation of one of the toughest in the district.
"As a boardmember, I've learned a lot of from Ms. Martin in looking at her school and looking at the results," said Barnett.
Hamilton and Powell said Martin's qualifications aren't in question, but the selection process is.
"What I would like to see is a little more transparency in the process," said Powell.
"We do have a lot of great educators out there," said Hamilton.  "It would be nice to have a more time-filled process."
Barnett said in the past two decades, the hiring of the superintendent has been conducted through a community process that involved a national search.
"We have for the most part, not had success," said Barnett.  "I have no doubt that she's the best person to be in this job.  The right person, right time and right place."
Bill Kowba's last day is June 30.  Martin will take the helm July 1.