This is an archived article and the information in the article may be outdated. Please look at the time stamp on the story to see when it was last updated.
SAN DIEGO — A man looking for recyclables in the trash in Logan Heights found a three and a half foot long Ball Python instead, which appeared to have been dumped there.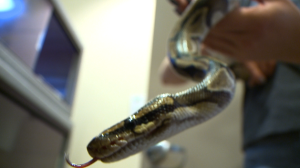 The snake was taken to the San Diego Police Department's Central Division where animal services were called in to help.
"It was in a container of some sort and (the officer) said that there were some eggs in there which sometimes are a treat for snakes,"  said Lt. Kalani Hudson with SD County Animal Services.
Hudson speculated that the yellowish-brown snake might have been an escapee that made its way into the refuse bin in search of food, or could have been discarded accidentally after slithering unnoticed into a trash bag or garbage can at its owner's home.
The python is in good shape and is most likely an adult.  The snakes aren't native to California but are frequently kept as pets.
"They're very docile, however, any sort of reptile is not for an inexperienced pet owner," said Hudson.
The snake will be kept by Animal Services for three days.  If the owner doesn't come forward to claim the snake, the animal may possible be put up for adoption.
"We'll work with the Herpetological Society to make sure that they get proper placement with a home that knows how to care for him properly," said Hudson.