This is an archived article and the information in the article may be outdated. Please look at the time stamp on the story to see when it was last updated.
SAN DIEGO - A police pursuit came to a halt when the suspected car thief flipped the sedan before crashing into a home Sunday.
The chase started in National City around 3:50 p.m. and ended in a Paradise Hills neighborhood within 10 minutes, police said.  The car slammed into the home's garage in the 2000 block of Alta View Drive.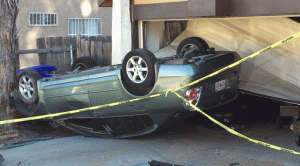 A driver and passenger bolted out of the car but couldn't outrun the police and their police dog, said National City police.
The police dog bit the driver, who police said is a minor and wanted on a felony warrant. He was taken to Mercy Hospital to be examined and police said he would then be taken to a juvenile facility. He was also arrested for stealing the car he was driving. Police said the passenger was arrested but later released. 
According to people inside the home during the time of the crash, there were about 20 people inside when the crash occurred. The renters moved in last week, and were in the middle of having a housewarming party, which continued throughout the night despite the crash. 
"We saw a miracle again that none of our kids were outside," said home renter Richard Cano. 
The renters said the only damage to the home was to the garage, and their gas would be turned off until further inspection.