This is an archived article and the information in the article may be outdated. Please look at the time stamp on the story to see when it was last updated.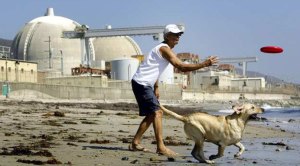 SAN DIEGO — The California Public Utilities Commission is scheduled to hold public meetings today on rate-setting issues related to outages at the San Onofre Nuclear Generating Station and its eventual closure.
The agency is investigating the extended outages and the subsequent retirement of San Onofre's reactors as it tries to determine whether any refunds to ratepayers or rate reductions are warranted. The meetings will allow the CPUC to hear from the public about how rates should be set as a result of the non-operation of the plant.
The facility along the northern San Diego County coastline has been idle since a small non-injury leak was discovered in one of the reactors in January 2012. The other reactor was undergoing scheduled maintenance at the time.
Southern California Edison, the plant's operator and majority owner, decided in June to retire the reactors, prompting questions over whether costs should be borne by ratepayers or shareholders.
San Diego Gas & Electric owned 20 percent of the nuclear plant and received one-fifth of its power.
The CPUC meetings are scheduled for 2 p.m. and 6 p.m. at the Al Bahr Shriners Building, 5440 Kearny Mesa Road. Members of the public who wish to speak are urged to arrive a half-hour early.
The public can also submit written comments to the CPUC Public Advisor, 505 Van Ness Ave., Room 2103, San Francisco, Calif., 94102 or via email to public.advisor@cpuc.ca.gov. The agency asks that all written or email comments refer to the proceeding number I.12-10-013.
Public comments received are provided to the CPUC's commissioners and the administrative law judge assigned to the case.