This is an archived article and the information in the article may be outdated. Please look at the time stamp on the story to see when it was last updated.
SAN DIEGO – The lawyers for former San Diego Mayor Bob Filner fought back against allegations of sexual harassment Tuesday with the help of a psychiatrist.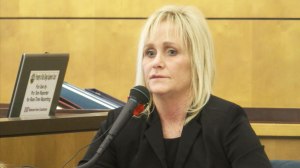 Stacy McKenzie, who is suing Filner and the city of San Diego for $500,000, has testified Filner pushed himself up against her and grazed her breast with his arm at a city event.
Psychiatrist Dr. Dominick Addario said Tuesday that he questioned McKenzie's credibility after her delayed reaction to what happened at a city park gathering in April 2013.
Addario said in reviewing medical records - McKenzie never complained or mentioned to her doctors any increased stress or worsening of her psychiatric condition that had to do with Filner until year and a half or more later.
"That would be the primary concern I had, no change in medical state per medical record description and no mention of the situation to a doctor that she seemed to have a very good relationship with until a year and a half later," Addario said. "Then in just a note that she sent, she didn`t discuss it in the session."
Closing arguments are expected to begin Thursday morning.