This is an archived article and the information in the article may be outdated. Please look at the time stamp on the story to see when it was last updated.
MURRIETA, Calif. – More undocumented immigrants are expected to arrive in San Diego Friday and protesters said they're ready.
"The goal should be to turn the bus around again," said Rob Luton with the San Diegans for Secure Borders Coalition.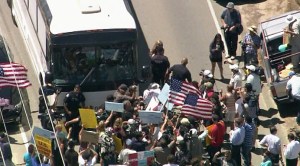 The group is calling on hundreds of demonstrators to come out and protest the arrival of undocumented immigrants to Murrieta and keep buses from entering the U.S. Border Patrol facility, as they did Tuesday when a few dozen people stood in front of three large Department of Homeland Security buses and forced them to turn around.
"I place a lot of that blame on the Murrieta Police Department. They need to be investigated," said Enrique Morones, with Border Angels, who is welcoming the migrants.
Since the incident the Murrieta Police Department has been under fire over its handling of Tuesday's protest.
Fox 5 called, emailed and went to the Murrieta Police Department seeking a response but no one in the department was made available to speak.
"What they were doing was trying to hold the protestors back," said Kimberly Davidson with the City of Murrieta, who blames the DHS.
"Our police department asked them to wait for back up. We were actually in the process of securing back up in order to make sure that the protestors were not going to be harmed in any way. So when our police department asked the buses to remain, the buses chose not to remain and backed up and left on their own accord," said Davidson. "Our biggest concern moving forward is violence could break out."