This is an archived article and the information in the article may be outdated. Please look at the time stamp on the story to see when it was last updated.
SAN DIEGO — More than a dozen protestors rallied outside a meeting of the California Public Utilities Commission in Kearny Mesa Thursday to pressure commissioners to vote against a proposal to build a power plant on the eastern edge of Mission Trails Regional Park.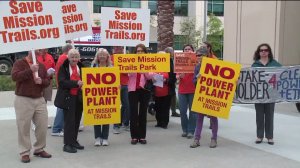 The Quail Brush Energy Generation Project proposed by Charlotte, N.C.- based Cogentrix raised the ire of environmentalists, residents of Santee and the Santee School District. It was previously rejected last year by the city of San Diego's Planning Commission and the San Diego City Council.
The California Energy Commission has final say on where the plant can be built, but the CPUC is deciding whether to grant a power purchase agreement that would allow San Diego Gas and Electric to buy power from the Cogentrix plant.
The coalition opposed to the plant includes the Sierra Club, Save Mission Trails, the League of Women Voters of San Diego, San Diego Audubon Society, the Environmental Health Coalition, Preserve Wild Santee and SanDiego350.org.
Stephen Houlahan, president of Save Mission Trails, said the CPUC has previously said that energy from the 100-megawat peaker plant is not necessary. He an other opponents want to make sure that commissioners don't change their minds under pressure from SDG&E.
"Save Mission Trails and our coalition are here to make sure that the California Public Utilities Commission votes to oppose the power purchase agreement to grant Quail Brush, Pio Pico and the Escondido Energy District power plants from existing in San Diego.  We oppose them and we don't want them here," he said. "The Quail Brush power plant being sited at Mission Trails Region Park — that's a no-brainer. It just shouldn't happen. But then if you get underneath the surface, the Pio Pico and Escondido Energy District, those are unnecessary and it becomes a boondoggle for ratepayers. So it's unnecessary, it's hurting the environment, it hurts our health and we're paying for it."
Cogentrix wants to build the Quail Brush plant on almost 22 acres near the Sycamore Landfill, close to state Route 52 and Mast Boulevard and down the street from residential neighborhoods and West Hills High School.