This is an archived article and the information in the article may be outdated. Please look at the time stamp on the story to see when it was last updated.
MURRIETA, Calif. — Three buses carrying about 140 undocumented who were being taken to Murrieta Tuesday afternoon were greeted by angry protesters and turned away from their intended destination.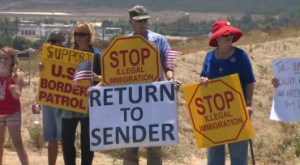 The immigrants were flown from a Texas Border Patrol Station to San Diego, where they landed shortly after noon. They then boarded three Department of Homeland Security buses and headed north on Interstate 15 toward the Murrieta Border Patrol Station.
When they approached Murrieta, they were greeted by about 100 protesters holding signs including "RETURN TO SENDER," "STOP ILLEGAL IMMIGRATION," and "SUPPORT U.S. BORDER PATROL."
A small band of immigrant supporters also made a showing outside the Murrieta facility, but their shouts were largely drowned out by the opposing camp.
The buses then turned around for unknown reasons and began heading south on Interstate 15 and began driving south to San Diego.
Immigration and Customs Enforcement spokeswoman Lauren Mack declined to disclose where the migrants were being taken, but by late afternoon, the buses were seen pulling into a Customs and Border Protection facility in San Ysidro.
The majority of immigrants on the buses were mothers and children. According to reports, the migrants are fleeing violence, murders and extortion from criminal gangs in Guatemala, El Salvador and Honduras.
The Border Patrol's Rio Grande Valley sector has been overwhelmed by the arrivals, prompting the U.S. Department of Homeland Security to seek other locations to send them until their cases can be assessed.
"U.S. Customs and Border Protection's El Centro and San Diego sectors are about to begin assisting with the processing of migrants apprehended in South Texas, many of whom are adults with children," according to an ICE statement released Monday.
"CBP will transfer certain individuals to U.S. Immigration and Custom Enforcement's Removal Operations, where appropriate custody determinations will be made on a case-by-case basis, prioritizing national security and public safety."
The ICE document specified that Murrieta would be the end point for "processing" the individuals, noting that they "may be released with instructions to report to a local ICE office near their destination address within 15 days."
Following Tuesday's standoff in Murrieta, ICE officials said that once the migrants are processed, they will be taken to a "transition center" in Riverside County set up by a faith-based organization that would help the migrants arrange transportation to their final destinations and help them contact family members.
During a 30-minute speech Monday, Mayor of Murrieta Alan Long stressed that Murrieta will remain a safe community regardless of the pending arrival of the illegal immigrants.
"This is a significant impact to our resources, but it's well within the capacity we have here regionally. Murrieta remains safe, but continues to object to this transfer of illegal immigrants to the border patrol office. While we were successful in having this canceled two other times, we were notified late Friday afternoon that immigrants would transferred starting Tuesday, July 1," said Long.
Ira Mehlman of the Federation for American Immigration Reform told City News Service there is no way of knowing "with certainty" the histories of those being brought to the area. Mehlman said some of the "children" who have been showing up and surrendering to federal agents along the border look older than they claim and have been identified as affiliates of criminal syndicates such as the notorious MS-13.
"Before the Obama administration put a gag order on the Border Patrol, agents were saying they recognized some of these so-called `kids' as gang members," Mehlman said. "The agents were forced to take them anyway. The last thing any community wants is more gang members running around."
Mehlman said the 2012 Deferred Action for Childhood Arrivals, or DACA, policy initiative has served as an "inducement" for undocumented immigrants to make a mad dash across the U.S.-Mexico border.
"There's no question about a surge," Mehlman said. "The estimates are 90,000 DACA asylum-seekers this year and 150,000 next year. DACA sends a signal that if you're a minor, you'll get to stay in the United States, regardless of immigration status."
According to Mehlman, DACA is a spin-off of the DREAM Act, which has failed to attain federal legislative approval, though a number of states, including California, have enacted their own versions. Under California's DREAM Act, signed into law by Gov. Jerry Brown in 2011, undocumented immigrants who meet certain criteria are provided with financial aid for college. Critics characterize DACA and the DREAM Act as just backdoor forms of amnesty.