This is an archived article and the information in the article may be outdated. Please look at the time stamp on the story to see when it was last updated.
SAN DIEGO – Protesters lined up outside SeaWorld San Diego Tuesday evening to send a message to an international trade organization holding an event at the park.
The protest comes in the wake of CNN's documentary "Blackfish," which addresses killer whales in captivity and the 2010 death of SeaWorld trainer Dawn Brancheau.
H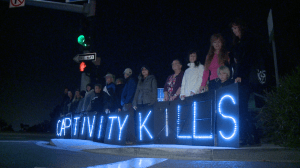 owever, Tuesday's protest was directed at the International Association of Amusement Parks and Attractions. The organization is holding a week-long event in San Diego, with a reception at SeaWorld Tuesday evening.
"Our message is that they need to continue to focus on amusement and entertainment that isn't on the backs and suffering of wild animals," said Martha Sullivan, protest organizer.
According to the IAAPA's website the trade organization promotes "safe operations, professional growth and success of the amusement parks and attractions industry."
The protestors said the IAAPA should not be associating with certain parks, like SeaWorld.
"Supporting them is the same as supporting cruelty and animal abuse," said Ellen Ericksen, protestor.
As of late Tuesday the IAAPA had not responded to Fox 5's requests for comment about the protest. A spokesperson for the organization told Fox 5 to contact SeaWorld "for perspective."
SeaWorld Communications Director, David Koontz, released the following statement regarding the protest:
"The protesters' claims and accusations are, as they always have been, without merit. There is no organization more passionately committed to the physical, mental and social care and well-being of animals than SeaWorld. The real advocates for animals are the trainers, aviculturists, animal-care staff and veterinarians at SeaWorld.  SeaWorld will continue to provide the enriching, educational and entertainment experience that has done so much over the last five decades to inspire appreciation and respect for animals around the world."