This is an archived article and the information in the article may be outdated. Please look at the time stamp on the story to see when it was last updated.
SAN DIEGO — A man accused of kidnapping and sexually assaulting a 26-year-old woman as she walked home from a friend's house in Ocean Beach pleaded not guilty Wednesday to three felony charges.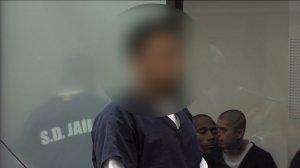 Richard Christopher Butts, 25, was ordered held on $300,000 bail.
He faces life in prison if convicted of one count each of kidnapping with intent to commit rape, forced oral copulation and assault with intent to commit rape.
Deputy District Attorney Wendy Patrick said the attack happened Sunday about 10:15 p.m. as the victim tried to make her way home after having dinner at a friend's house.
"The defendant — a stranger to her — runs up to her, grabs her in a bear hug, drags her 30 to 40 feet to an area of seclusion, and sexually assaults her," the prosecutor alleged outside the courtroom.
A 911 caller reported hearing the woman screaming for help in the area of Bacon and Voltaire streets.  When witnesses ran to her aid, the assailant bolted and fled toward Robb Field, SDPD Detective Gary Hassen said. Patrol officers found him near the park a short time later and took him into custody.
Judge David Szumowski scheduled a readiness conference for April 9 and a preliminary hearing for the following day.