This is an archived article and the information in the article may be outdated. Please look at the time stamp on the story to see when it was last updated.
SAN DIEGO — A house painter who was unhappy because he hadn't been paid shot to kill when he opened fire on news sports director Kyle Kraska outside his Scripps Ranch home last year, a prosecutor said Monday, but a defense attorney denied his client wanted the victim dead.
Mike Montana, 55, is charged with premeditated attempted murder and shooting into an occupied vehicle in connection with the Feb. 10, 2015 attack on Kraska.
In her opening statement, Deputy District Attorney Rebecca Zipp told jurors that Montana showed up at Kraska's home as the sportscaster was about to leave for work and pulled his van in behind Kraska's Mercedes-Benz.
The defendant walked up to Kraska in the car and said, "You should have paid me the money," the prosecutor said.
Montana walked to the back of Kraska's car and opened fire, then proceeded to the front of the Mercedes and fired three shots into the engine, Zipp said.
The defendant then shot Kraska four times — in the bicep, leg, and twice in the chest, the prosecutor told the jury.
Kraska, fighting to stay alive, couldn't call for help because his cellphone was hit by a bullet and couldn't scream for help because of his injuries, the prosecutor said.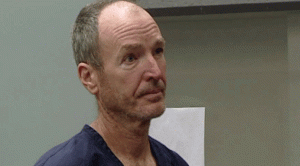 Montana was tracked to his El Cajon home, where he was arrested seven hours after the shooting. Zipp said the defendant ditched the gun and it was never found.
Defense attorney Richard Jayakumar told the jury that Montana did not form the intent to kill Kraska and was taking a "barrage of medications" at the time.
Jayakumar said Montana suffered from significant back problems many years ago and was prescribed powerful pain medications after two surgeries, his lawyer said.
Jayakumar said Kraska was unhappy with Montana's work on his house and refused to pay him $2,200 still owed until the paint job was completed.
Montana told Kraska that he would have to get more jobs in order to finish the work on Kraska's home and Kraska took that to mean that Montana was quitting, the defense attorney said.
Kraska has said he hired Montana to paint his house in October 2014 after the defendant taped a business card to the victim's front door. He has said he paid Montana $800 up front and the two agreed that $2,200 was due when the job was finished.
About a week before the shooting, Montana left a note under Kraska's doormat that read, "It's in your best interest to pay me the money that you owe me," according to the victim.
On Feb. 10, 2015, Montana "systematically" shot at Kraska's car, including the side, tires and hood, Jayakumar told the jury, but "was not trying to kill Mr. Kraska."
Jayakumar said Kraska jumped in and out of his car during the shooting and was caught in the crossfire.
If Montana wanted to kill the victim, he could have shot him point- blank, the defense attorney said.
Montana is charged separately with making threats against two other people.
Zipp said Montana went to a Department of Motor Vehicles office in Poway in 2014 and argued with a employee over a fee. The defendant tried to get the clerk to waive the fee, but she said she couldn't.
The defendant then tried to go to another window, but the employee told him he could not do that. Montana told the employee that he could do whatever he wanted and that he would go home and get a machine gun and blow everyone up, Zipp alleged.
Montana is also charged with leaving threatening voicemail messages at the San Diego Rowing Club in late 2012 after officials asked him not to ride his Jet Ski through an annual regatta in Mission Bay.
The defendant faces nearly 38 years to life in prison if convicted.