This is an archived article and the information in the article may be outdated. Please look at the time stamp on the story to see when it was last updated.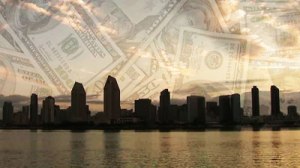 SAN DIEGO – The city of San Diego will not be refunded a $27 million portion of its annual retirement contribution if Proposition B is overturned in court after July 1, the head of the city's pension board told City Council members Monday.
The pension reform initiative, passed by two-thirds of San Diego voters last June, is being challenged by the state's Public Employment Relations Board.
PERB contends that the city violated labor law by not negotiating the contents of the measure with its unions before Prop B went on the ballot.
According to City Attorney Jan Goldsmith, the proposition was privately sponsored, so the city had no meet-and-confer obligation until it passed.
While its supporters believe Proposition B will save the city more than $1 billion in future pension payments, the measure will result in higher costs over the first few years as new employees are shifted to 401(k)-type benefits.
The $27 million at stake is that higher cost for the fiscal year beginning July 1.
Mark Hovey, general manager of the San Diego City Employees Retirement System, said if the ballot measure is overturned soon, new financial information could be taken to his governing board, and the city's contribution could be adjusted downward.
Councilman David Alvarez asked him what would happen if the court decision came after the start of the fiscal year.
"That $27 million once paid into the retirement system stays there, so it's not refunded back to the city," Hovey said.
He said the payment would not reduce the city's annual contribution the next year, either, but it could be applied to the overall debt, which would save the city in the future.
"You get value for it, but you don't get it immediately back," Hovey said.
Hovey and consultant Gene Kalwarski said the city's contribution to the retirement system due on July 1 will be $275.4 million, up from $231.1 million this year.
The ballot measure accounts for the bulk of the increase, and poor returns on investments added $8.3 million.
The city's pension deficit as of last June 30 was estimated at nearly $2.3 billion.