This is an archived article and the information in the article may be outdated. Please look at the time stamp on the story to see when it was last updated.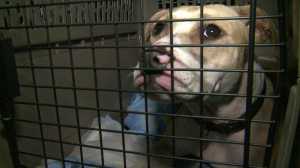 SAN DIEGO — The City Council's Public Safety and Neighborhood Services Committee is scheduled Wednesday to consider banning the retail sale of dogs, cats and rabbits in pet stores and other commercial establishments in San Diego.
Committee members will be presented with a proposed amendment to the municipal code to make it "unlawful for any person to display, offer for sale, deliver, barter, auction, give away, transfer or sell any live dog, cat or rabbit in any pet shop, retail business or other commercial establishment located in the city of San Diego, unless the dog, cat or rabbit was obtained from a city or county animal shelter or animal control agency, a humane society or a nonprofit rescue organization."
Pet stores would need to keep certificates that identify the sources of their animals and make them available to animal control officers, law enforcement, code compliance officials or other city employees.
A report to the committee said dogs, cats and rabbits bred for pet stores are kept in inhumane conditions, are more likely to carry genetic disorders, are poorly socialized, and too many end up being abandoned by owners — and going to shelters.
The proposed ordinance is supported by the San Diego Humane Society and SPCA, Animal Protection and Rescue League, Companion Animal Protection Society, and San Diego Animal Defense Team, which regularly stages protests outside pet shops.
The groups contend that 99 percent of canines sold in pet stores come from "puppy mills," which overbreed and underfeed them and fail to provide adequate veterinary care. Many of the animals arrive in pet stores in unhealthy condition, their report says.
The San Diego-based Petco chain, as well as Petsmart, offer pet adoptions through shelters and rescue groups.
A dozen cities in California have banned the retail sales of animals, including Chula Vista, according to the report. If approved by the committee, the code change would go to the full City Council for final adoption.