This is an archived article and the information in the article may be outdated. Please look at the time stamp on the story to see when it was last updated.
Many of the 7 million Californians who voted in favor of Proposition 8 were not happy about the Supreme Court's decision Wednesday, but say they'll continue to fight for traditional marriage.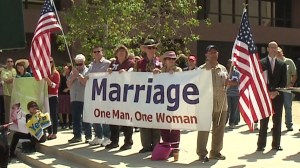 "Every child needs a mother and father," said Elizabeth Becerra, who voted for the controversial amendment and is very unhappy. "We are upset that our voice is not being heard and our votes are not being counted."
She was on the steps of the federal building in San Diego along with other supporters to voice disappointment in the Supreme Court ruling striking down the ban on same sex marriage.
"The state had no right to redefine marriage for the benefit of a special interest groups," said one speaker at today's rally. "These twin victories for the homosexual movement have brought shame onto America."
Attorney Charles LiMandri said marriage is for the purpose of children.
"The institution of marriage has always been and needs to be for a healthy society, that's between one man and one women," LiMandri said.
It's intent, says supporters, was to protect the family unit, the sanctity of marriage between and man and a woman, and the resulting offspring. Anything else, says, Dran Reese, will not only hurt society, but is against God.
"God says, it can never ever be right. No matter what judge, what politician or  movie star says, it's equal there is nothing civil about the right to unnatural sexual lives."
And they vow to keep fighting.
"We shall fight in the legislature, fight in the courts and we will not surrender, " said Dr. Jennifer Roback Morse, adding Prop 8 began as a grassroots movement right here in San Diego, started by folks of modest means, who will use the power of their vote and continue to mobilize.
"If you're going to strike down a constitutional amendment that was passed by 52 percent of  the people of California, that at least deserves to be done with full adversarial proceedings," said LiMandri.
"The ordinary people of this country – all races, religions and political parties – supported traditional marriage," said Dr. Morse.
And making a serious threat to fight back, Reese said, "you want economic stability? You have struck down that, too! You're going to watch the courts, your tax dollars, your public education system, and your businesses and churches become nothing but fight machines."
Attorneys for supporters say as soon as the Governor directs county clerks to start issuing marriage licenses they will be back in court.